The Inside Word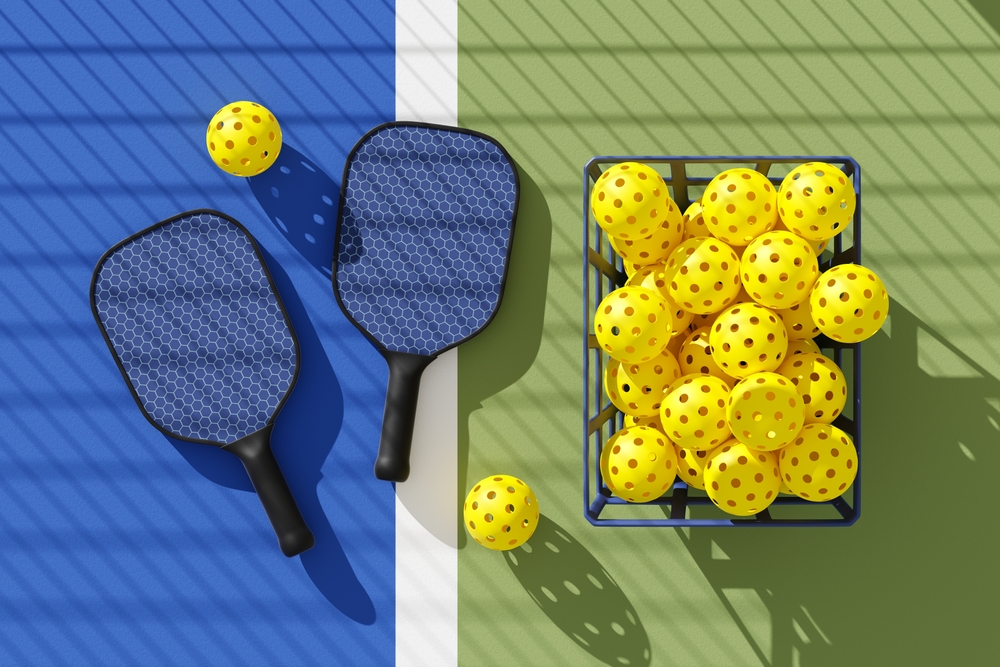 Why is Pickleball suddenly so hot and what does it tell us about business?
Easy to learn, hard to master – that's Pickleball, the racquet sport currently exploding in popularity in Australia.
It's suddenly all over social and mainstream media, most recently as the late Friends actor Matthew Perry was an avid rookie who played Pickleball the morning of his death.
Pickleball has a low barrier to entry and, at the beginner level, attracts an eclectic crowd. With an ounce of hand-eye coordination, new players can enjoy a half-decent rally in the time it would take to warm up a squash ball.
It's the lovechild of ping pong, badminton and tennis. Two or four players meet on a badminton-sized court and hit a perforated ball over a net with paddles. That's the easy bit. The hard bit comes at the higher levels where complex decisions, consistency, strategy and athleticism deliver a game described as 'more chess than checkers'.
In Australia, the current challenge is also finding a free court, either indoors or outdoors. Pickleball Australia says membership has doubled in the past 12 months to 25,000 and counting. This follows Pickleball's enormous popularity in the USA where it's the fastest growing sport with over 36 million players of all ages, abilities and experience.
So why is Pickleball suddenly so hot?
Post-Covid, celebrities and sporting legends have exponentially elevated the sport's profile, and the money has followed. In the USA, professional Pickleball has high-profile investors including NBA legend LeBron James, entrepreneur Gary Vaynerchuk (aka Gary Vee), NFL star Tom Brady, musician Drake, and Australia's own tennis enfant terrible, Nick Kyrgios. According to Julio DePietro, the chief executive of privately-owned, Texas-based Major League Pickleball (MLP), US teams purchased for as little as USD100,000 in 2021 are now worth up to USD10 million.
Closer to home, in 2022 Adam Thomson and biotech entrepreneur Anthony Liveris (son of Andrew Liveris, President of the 2032 Brisbane Olympics Committee) co-founded Australia's Pacific Pickleball League (PPL). PPL swiftly signed a deal with MLP to professionalise the sport in Australia. This is MLP's first international expansion, and Australia's four professional teams – Brisbane Breakers, Gold Coast Glory, Sydney Smash and Melbourne Mavericks – now play under the new Major League Pickleball Australia (MLPA) banner and MLP's format.
Famous Pickleball enthusiasts include the Clooneys, Bill Gates, Serena Williams, Andre Agassi and Dr Brené Brown. Yet despite attracting these big names, and big money, Pickleball is fundamentally a simple sport intended to be accessible, affordable and fun for all ages. It was created out of necessity on a rainy day in Washington State in the summer of '65. Three bored families rummaged through their cache of sporting equipment and found a badminton net, ping pong paddles and a perforated plastic ball. They invented a family-friendly game with rules that fostered harmony, good sportsmanship and equity. Almost 60 years later, it's being touted as a potential Olympic sport.
There are two stories attributed to Pickleball's name. One that a founder's dog named 'Pickles' would chase the ball, and another that it's named after the 'pickle boat' crew in rowing, where oarsmen are chosen from the dregs of other boats.
Clearly, there's plenty to learn from a family game founded on success rather than winning, so here are a few takeaways for the business game:
Keep your eye on the ball
Pickleball is fast-paced and requires focus, especially when volleying. Like any sport, it's also a mind game and your toughest opponent may exist in your own head.
There are always distractions in business, but a good strategic plan and excellent advisors can keep you on track.
You're only as good as your team
'Dinking' – when you set up a shot for your partner – is a key move in Pickleball. It helps you win points, strengthens your partnership and contributes to enjoyment of the game.
When you're dinking in business, you're supporting the team. Play to everyone's strengths and support them to improve their weaknesses.
You can't be good at everything
Being successful at another racquet sport won't necessarily make you a champion at Pickleball. If you want to improve, practice and hire a coach.
Transferable skills are invaluable, but new ventures will have their challenges. Seek expert advice and take it.
Be respectful
The beginner Pickleball crowd is eclectic and relatively anonymous. Everyone's on a first-name basis and you never know who you're playing. CEOs, teachers, stay-at-home-parents, politicians … they're all equal on the court.
Treat everyone like a valuable customer or colleague; you never know when you need an ally. A good reputation is hard won and easily lost.
Appearances can be deceiving
Some players have all the gear and no idea, while others may appear the most unlikely of opponents.
Beware the 'show pony' and the 'beige assassin' – they may be distracting you or hiding in plain sight, and don't assume youth, strength or athleticism will triumph over experience, maturity and consistency.
Communication is key
From beginners through to professional players, Pickleball demands clear communication to keep score, execute game strategy, and promote good sportsmanship.
Identifying, refining and communicating your key messages across channels reaps rewards across hard and soft assets. It requires specialist skills, targeted contacts and excellent execution.
Be a good sport
Know and obey the rules. No-one likes a cheat and if you ignore the rules you'll find yourself on the sidelines.
Public opinion and reputation matter. If something blows up – irrespective of fault – experienced crisis management and communication is a critical lifeline.
If this floats your 'pickle boat', break out the sweatbands and head to the Pickleball Australia Association to 'Try Pickleball' and find your crew.