The Inside Word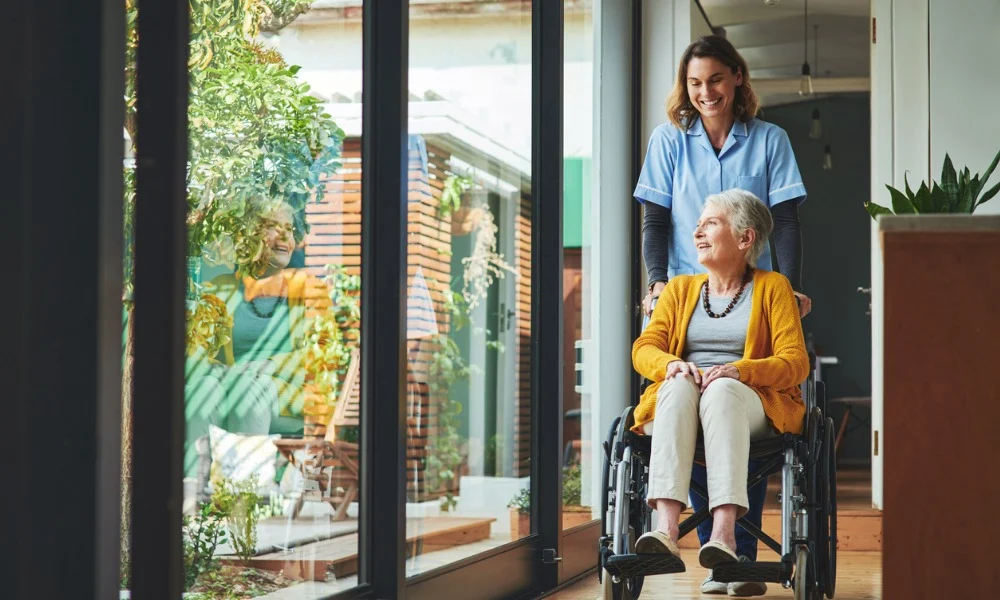 Apollo Care Alliance combats helplessness in aged care
Brace yourself – I have some good news on aged care.
With deepest sympathy for anyone who has suffered due to failings in aged care, I dare to venture there's been sparse measurement or discussion of the good things that occur daily in this much-maligned sector.
We've had nothing but bad news: The Royal Commission into Aged Care Quality and Safety exposed the sector's shortcomings, then COVID-19 hit older Australians hard. Recent media headlines continue to highlight challenges: 'Seven in 10 nursing homes operating at a loss1 and Regional aged care headed for crisis2. Now we have the Productivity Commission's3 revelation that the Aged Care Quality and Safety Commission received more than 37,800 'serious incident notifications' in the last financial year.
We're good at noticing when things go wrong and – rightly – demanding action, but this always results in additional regulation and compliance that negatively impacts the people who are doing the right thing.
Sue Jauncey spent many years as a registered psychologist in the prison system and has accrued decades of experience observing the outcomes of the carrot-versus-stick approaches. She now heads up Appellon, a cultural engineering firm that helps businesses empirically measure the relationship between culture and performance outcomes, most recently in aged care.
"Absolutely, some behaviour requires a punitive response, but for the majority of the workforce, additional regulation and forced compliance sends the message 'we can't trust you, so we'll control you and make you do what we want'.
"This results in 'learned helplessness' and staff give up trying to resolve challenges. Instead, they wait to be told what to do, and expect to be told they're not doing things well. Before long, they start to believe they're failing and are doing a bad job. It's a vicious cycle that increases stress and anxiety and elevates cortisol levels, triggering a survival fight-or-flight mechanism. People start blaming others, becoming passive and depressed, seeking the negative and overlooking the positive. Not surprisingly, wellbeing plummets along with productivity and quality of service.
"This is exactly what's happened in aged care," says Jauncey. "The aged care story is focused on what goes wrong and completely misses what's going right. It's no wonder the sector struggles to find and retain staff."
So how do we change the narrative?
Let me tell you another good aged-care story.
Apollo Care Alliance, a client of both Appellon and SAS Group, is a successful disrupter in the aged care sector. Its innovative financial and operating model de-risks smaller, distressed, not-for-profit community and faith-based aged care facilities by taking on their care, governance, administrative and financial burdens. Meanwhile, it ensures each facility preserves its charitable status, ethos, brand and community connections. The residential service manager at each location operates like an owner, but with the security and operational support of the alliance behind them.
"Charities can't raise capital, but the Apollo Care Alliance can," explains CEO Stephen Becsi. "Together, we have the best of both worlds."
Becsi was an early believer in the correlation between culture and performance and it's at the bedrock of Apollo's business. He knows that in addition to spending millions of dollars and 18-24 months renovating facilities and improving services at its seven facilities, he needs to attract and retain good staff who are invested in the business and its residents.
It's an aspirational approach and managers are accountable for achieving KPIs for their facility. Crucially, the wellbeing of staff and residents is constantly measured and tracked on a dashboard using Appellon's tripartite 'Age-rite' assessment tool.
'Care-rite' measures how Apollo is caring for the spiritual, emotional and psychological wellbeing of its residents; 'Work-rite' measures staff behaviour outputs to align Apollo's workforce, improve wellbeing and focus on performance outcomes that count; and 'Lead-rite' creates wiser, more objective leaders who make decisions in the best interests of residents, clients and the organisation.
"So many of these things are not recorded in aged care," says Jauncey "but by objectively quantifying people's achievements, we give them the energy to improve other things."
Apollo's dashboard revealed some important issues at one of its newly purchased facilities. Sue Jauncey explains: "As people age, their world and their needs shrink. Developmentally, many residents are not looking for purpose and meaning, they're looking for comfort and experience. In Apollo's first pilot of 'Care-rite', 84 per cent of clients and their families said their psychological, social and spiritual needs exceeded expectations. Yet when we surveyed staff, they thought they weren't providing enough care. This is a signal of learned helplessness and something that can be addressed and reframed.
"Measuring culture and performance has helped staff identify what they're doing well, how to work for the greater good and create a sense of achievement, connection and greater wellbeing. People have started to see opportunities and enjoy the quality of their experience … and the residents have been the winners."
Although Jauncey and Becsi have long advocated the connection between behaviour and performance, Appellon's approach and technology – using Apollo as a case study – is soon to be the subject of research at Flinders University's Aged Care Research & Industry Innovation Australia (ARIIA), a federally funded, industry-led organisation established to facilitate the positive transformation of aged care nationwide.
Grant Corderoy, a senior partner at accounting firm StewartBrown and a top financial and policy authority on aged care in Australia, says this is one of the most important pieces of research he's seen in a long time. Perhaps we have reason to hope for more good news for the aged care sector.
1 The Australian, Stephen Lunn, 6 January 2023
2 The Australian, Paul Garvey, 14 January 2023
3 Productivity Commission's Report on Government Services 2023, released 24 January 2023
Image is property of the Australian Lawyer, sourced on 30 January 2023