The Inside Word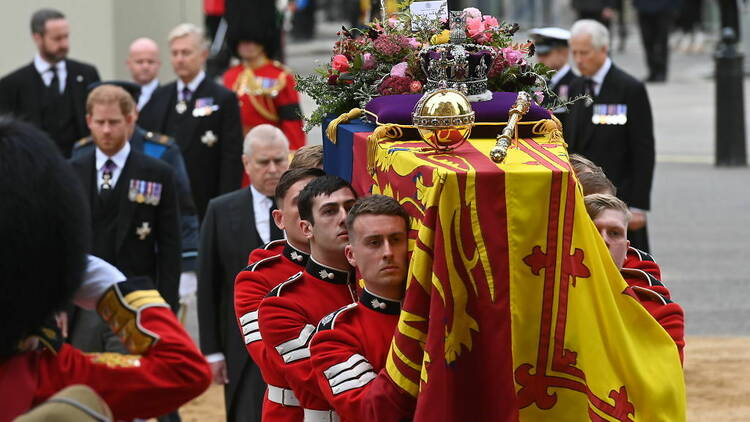 Rest in Peace Queen Elizabeth II
During the week, we saw one of the most extraordinary tributes to a world leader of many generations. This week we took a day to remember that world leader, it's only fitting that we have one more look at what made Queen Elizabeth II so extraordinary to the modern world.
The starkest image for me occurred in the middle of the night, Australia time, when, beamed around the world, were images of the Queen's coffin in the royal hearse rolling past fields on country roads on its 40-Kilometre journey from Westminster Abbey to Windsor Castle. As she made her way to her final destination in the Royal Vault at Windsor, marching alongside in a show of their dedication and commitment were soldiers of the Household Division in their familiar bearskin hats and bright red tunics. They could not let her out of their sight and so they slow-marched alongside: a reminder that she was their Queen. Their Colonel-in-Chief.
One of the most profound observations about Queen Elizabeth on the day of her funeral was that she wielded "soft power". In its 2017 Foreign Policy White Paper, the Department of Foreign Affairs and Trade described soft power as "the ability to influence the behaviour or thinking of others through the power of attraction and ideas…" Queen Elizabeth II certainly had that. A tiny and seemingly frail lady in recent years, she still charmed visitors, counselled Prime Ministers, hosted other world leaders, and kept a profound dignity in the process.
Too often in world affairs we see the swagger, the arrogance or the braggadocio of national leaders on grotesque display. But Queen Elizabeth brought a supreme dignity to her duties and interactions, having borne a lifetime of dedication to her role as sovereign. Her funeral was a testament to that dignity.
So what can we take away from the week, no matter our approach to matters of sovereignty and governance? That there is room for quiet diplomacy and representation at the very top. The loudest voice in the room may not be the one that most effectively conveys the message. And those leaders who are worthy of respect can receive the adulation of people without endless self-promotion.
Rest in Peace Queen Elizabeth II.